Custom Framing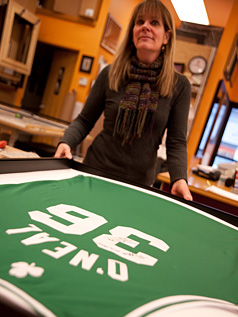 Design
Color, proportion suitability, style–these are the building blocks of great design. Our highly skilled and trained designers work closely with you to bring out the best in every piece. We're experts at understanding your needs so that the art reflects you and will coordinate with your décor. Your friends and family will love every piece!
The Craft
The proud art of custom framing is centuries old. Our skilled artisans, many of them successful artists in their own right, treat each piece with respect and care. Each work of art is done individually in our well equipped workshops in every store. Only the highest quality materials are used. Each of our framers undergoes a rigorous apprenticeship and thorough training before working with our customers.
Your service made my day
Hi Barry and Bob,
Today I visited your store for the first time. I was very pleased with the service I received the gentleman that helped me today was very polite, friendly and quick. It was also nice that I was not charged for having a string put on a picture that I received as a gift. Most of the framing stores wanted to charge me. It was very nice knowing that there are still stores out there that have great customer service, he even gave me a hanger and some bumper pads to put on the frame. I will recommend your stores to all my friends that need anything to do with framing and picture work. I had a very pleasant experience at your store, keep up the good work.
Thank you your service made my day,
Alison
Excellent, careful attention
Barry (and Bob)
Wanted to commend the excellent, careful attention given us on Monday, November 9, 2009, by Chris and Derek at your Needham Street, Newton Highlands, store.  We had several important prints to mat and frame up.  They were knowledgeable about your stock and Chris helped my wife choose the correct mats and mat arrangements for our pieces.
Glad to see this location and this business in good hands again!
Richard
Friendly and helpful
Barry and Bob,
I just wanted to send a note about your staff. I have recently had a few different pieces framed and I can't say enough about how friendly and helpful the staff was. They are very patient when I can't seem to decide what matting and frame to pick and never make me feel rushed. They are also helpful with suggestions that I would not have thought of.
Thank you and Happy Holidays,
Carol
Wonderfully helpful
Just wanted to let you know that Chris Curran, at your Needham St. store, was wonderfully helpful to us when we came in looking for a ready-made frame (he even helped us put our poster into it!)  He's a really nice guy.
Joan and Ethan